The next tweak is fairly obvious, at least to anyone that has any networking experience. As in anything else, you want the bare minimum of protocols and clients installed in order to maximize the speed and efficiency of your network.
Go to the control panel
Locate Network Connections and open it.
Find your connection, right-click on it, and choose properties.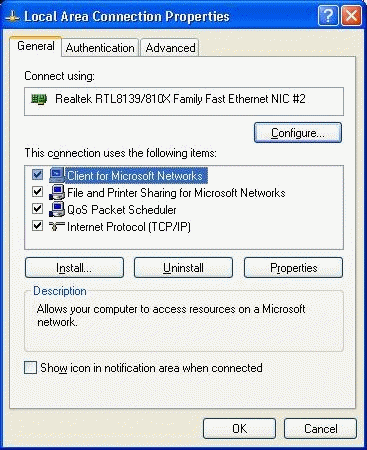 Local Area Network Connection Properties
Within this window is a list of network components. To connect to the internet, you will NEED Client for Microsoft Networks and TCP/IP. If you plan on sharing files, you will need File and Printer Sharing in here as well. If you use dialup, you will see your dialup adapter in here, while people on a nic connection will show their network card. Last, QoS Packet Scheduler will more than likely be present.
Any additional components beyond this may very well be superfluous. IPX/SPX and client for netware are both useless to most of us, unless you happen to be running a netware network (doubt it) or need it to game (again, not likely).
Please note that, if you're an AOL customer, you will have several more components in here (AOL dialup adapter, etc). My personal recommendation regarding this: Uninstall AOL and get a real ISP.
And that wrap up this tweak. To recap, you absolutely must have Client for Microsoft Networks, your adapter and TCP/IP. QoS will be there (you can remove it, but I don't think it matters too much), you may need File and Printer Sharing, and that's it, unless you have special networking needs. If you do, you should know what they are.