If you're like me, you have absolutely no use for hibernation, or sleep mode, or standby mode, or any of that other power conservation stuff. Computers don't pull a whole lot of juice anyway...turning off your monitor is enough to keep your energy consumption down. Additionally, my computer dislikes any of these modes and typically refuses to wake up at all.
To turn off hibernation, and in effect free up a fair chunk of harddrive space (equal to your RAM), check your root directory (c:\) for hidden files. If you have a file called hiberfil.sys, hibernation is turned on. If not, ignore this tip.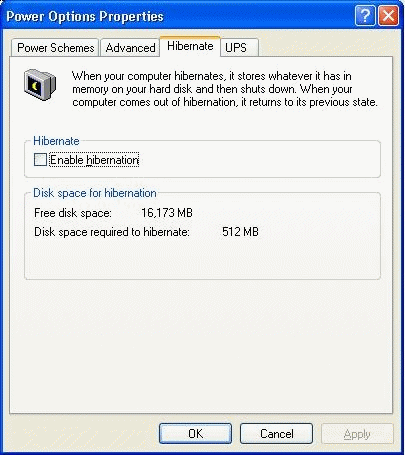 Hibernation Options
To disable hibernation, go to the control panel. Inside here, choose Power Options, go to the Hibernate tab, and uncheck the Enable hibernation box. Congratulations, your computer will no longer hibernate.