So what's the fix? Well, you never use the splat (*) to query a table. Query the specific columns you want to see. Below is the same query, but without the asterisk.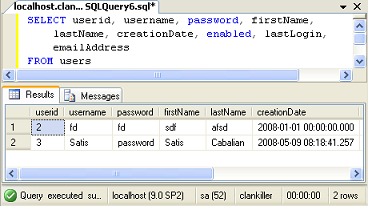 A Better SELECT
This gets the exact same results as the above query, but if someone sticks another column in there somewhere, I still get only these exact results. Now the select will always work, unless someone deletes a column or deletes the whole table. If that happens, you have bigger problems than your SELECT statement failing.
This query allows us to get all data out of the users table, but in reality you'll rarely just grab all data in a table. Instead you'll want to grab specific types of data. Allow me to introduce you to the WHERE clause.