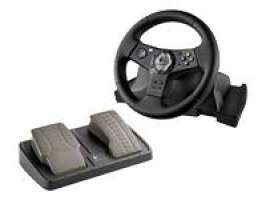 I got the wheel for £22 with my partners discount, which was a good price! It retails at around £30 in GAME stores, though I'm sure you could find it cheaper.

So when I got home I unpacked the wheel. This took about 3 minutes to set up with my Xbox. It was very simple. Remove the wheel and the pedals from the box, plug the pedals into the wheel (they can only go in one way) and plug the wheel in to the Xbox. Finally, switch on the game and off you go!

First impressions of the wheel are that it has a good quality feel to it. It returns to 0 well, without too much bouncing. By which I mean, if you turn the wheel to the side, and let it go, it doesn't over shoot its 'resting' place too much, but it does bounce a little. The pedals I find a little too loose though. In fairness, I have a UK size 14 foot (sometimes 15 depending on the shoe!) and I'm quite a big fella. For a smaller framed person, the pedals would be great. I also find that they are a little close together.

The only other real downside are what I call the 'lap wings'. These are little extendible components that slide out of the side of the wheel so that it stabilizes on your lap. They work, but they could extend just a little further to provide extra stability. You also get 3 suction cups so if you have a desk (or an Xbox controller adaptor for your PC) you can place it firmly on the desk. I haven't tested these unfortunately.

So, it's a wheel designed for racing games. How does it handle? I can describe this in three words: Like a dream.

You have 3 sensitivity modes, which are easily changed using the mode button on the wheel. Just hold it in and press up or down. The faster it flashes the more sensitive it is. However, to really get some performance out of it, I had to head on in to TOCA RD2's control settings. It allows you to adjust the dead zones and sensitivity etc. I had to up the dead zone on the wheel, as it is very sensitive and remove the dead zone from the breaks.

All in all, if you spend 5 minutes on a track, then go in to the settings and adjust the wheel accordingly, you'll soon be having a smooth ride. Except when Five-O (one of the racers in the game) blind sides you!

I guess the only thing that's left is the pedals. As I mentioned earlier, I find that they are a little to easy to press on. You have to be much lighter on them than I'd like. This often leads to poor starts as you'll find yourself applying too much pressure. It also means the same thing as you come out of a hairpin or other slow corners. You end up accelerating too hard and wheel spinning instead of getting a nice clean exit. But with a little practice, this is easy to overcome. Even if you can't quite grasp the idea of gradually pressing on the pedal, you can cheat and just repeatedly tap the pedal for the first second of acceleration. However, using that method, your starts and exits won't be as good as they could be.

The wheel also has vibration feedback, but I feel that is under-sensitive. If I drive on gravel, I'd like to feel it then. Not just when I hit the wall/other cars.

To summarise, the wheel handles very well and feels like a good quality wheel but the lap wings aren't long enough. The pedals are good once you are used to them, however a little to close together and a not resistant enough to pressure. Overall, racing games are much more fun with this wheel.

If you can find this wheel I'd recommend giving it a shot. Definitely.


Logitech Precision Vibration Feedback Wheel
Quality
9
Ergonomic Factor
8
Responsivness
10
Value
8
Average
8.75